Join us at
The Mystic Dream
every Tuesday when we are proud to host Tarot readings with the talented Elise, as well as offer a special Tarot sale: Every Tuesday all Tarot books, Decks, and Divination Card sets are 10% off! And each week we will feature a different Tarot deck, which will be on sale for 15% off!
Featured this Tuesday (10/7/08):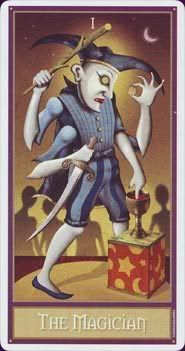 The Deviant Moon Tarot has surreal, very unique, and sometimes disturbing moonlit artwork. It's inspired by (and incorporates) images of cemeteries and mental asylums, and designed to illuminate deeper parts of the subconscious. It has a "dark whimsy" that feels appropriate for the Halloween season. And at 15% off this Tuesday, it's a great time to add something new and different to your Tarot collection! Comes complete with instruction booklet, and layout sheet.